Miracle Spritz
Regular price
$12.99
Sale price
$9.99
Unit price
per
Sale
Sold out
Attention, young adults battling relentless acne breakouts on your face, chest, and back! Allow us to introduce Miracle Spritz Body Spray - your ultimate weapon in the war against acne. Designed specifically for you, this incredible solution will revolutionize your skincare routine and help you achieve the clear, radiant skin you've always longed for.

Ditch the frustrating cycle of acne breakouts and say hello to a clearer, more confident you with Miracle Spritz Body Spray. Created with your needs in mind, this powerful formula works tirelessly throughout your day, keeping your skin clean, moisturized, and shielded against blemishes.

Experience the refreshing sensation as Miracle Spritz Body Spray becomes your most trusted ally in preventing breakouts and banishing acne. With each application, watch as this magical spray works its wonders, leaving your skin blemish-free and your smile clear and bright.

No longer will acne restrict your self-expression or hold you back from embracing life's adventures. Miracle Spritz Body Spray empowers you to take charge of your skin and regain your confidence. Feel the difference as this remarkable spray helps prevent breakouts, clears away existing acne, and leaves your skin visibly smoother and healthier.

Unlock the freedom to enjoy a clear, radiant smile with Miracle Spritz Body Spray by your side. Incorporate it seamlessly into your daily skincare routine and experience the transformative power firsthand. Say farewell to insecurities and hello to a new era of glowing, acne-free skin.

Don't let acne define you - with Miracle Spritz Body Spray, you hold the key to a brighter, more confident version of yourself. Embrace the joy of clear, moisturized skin and revel in the newfound freedom to express your unique beauty. Step into a world of possibilities with Miracle Spritz - your path to a clearer, happier tomorrow.
Share
View full details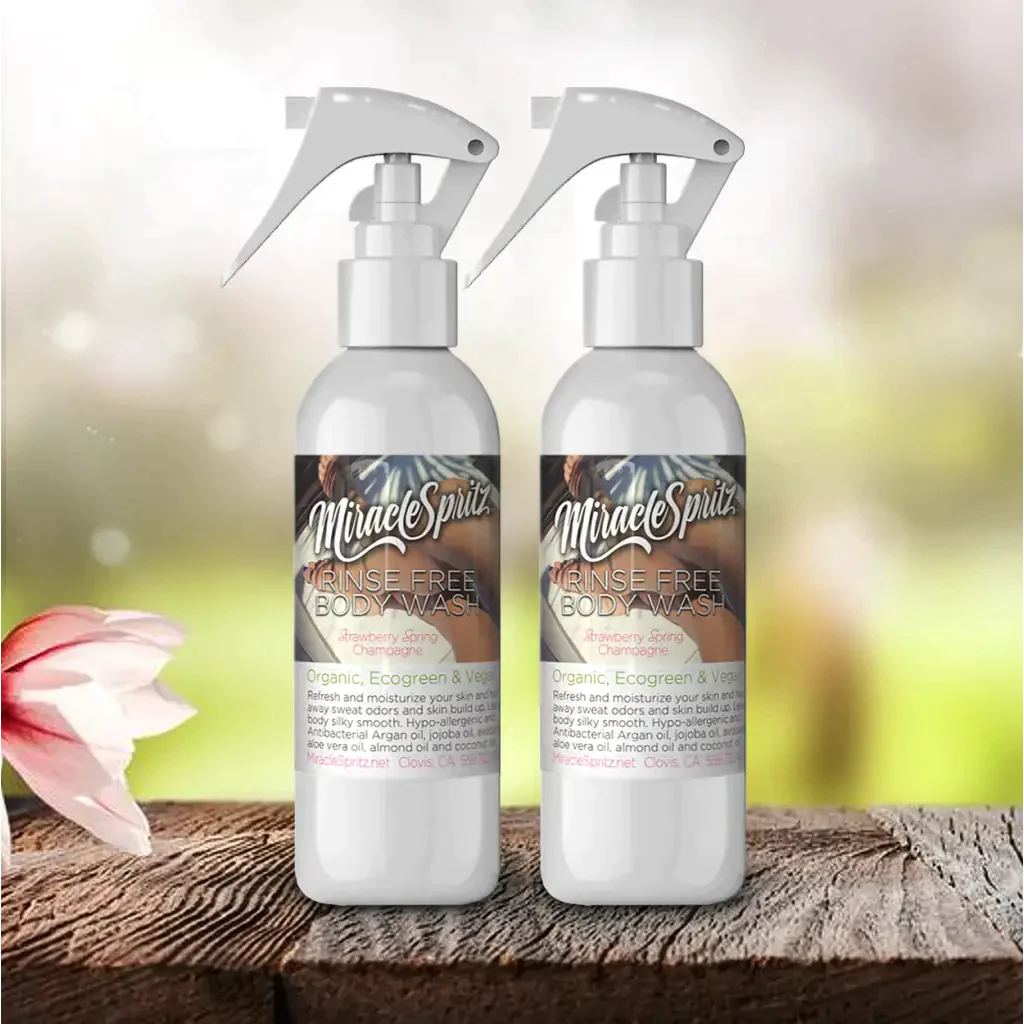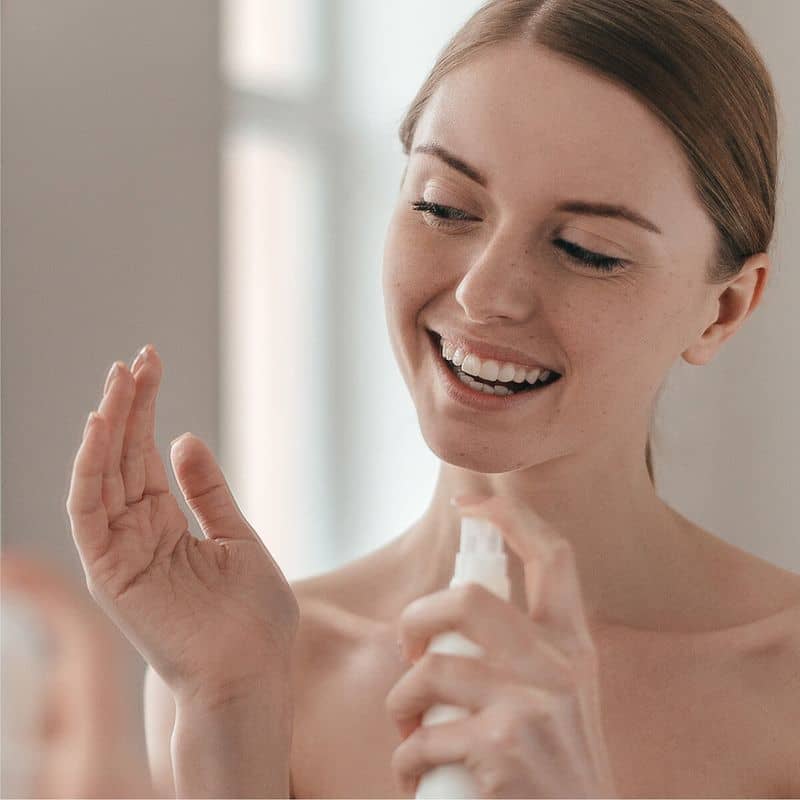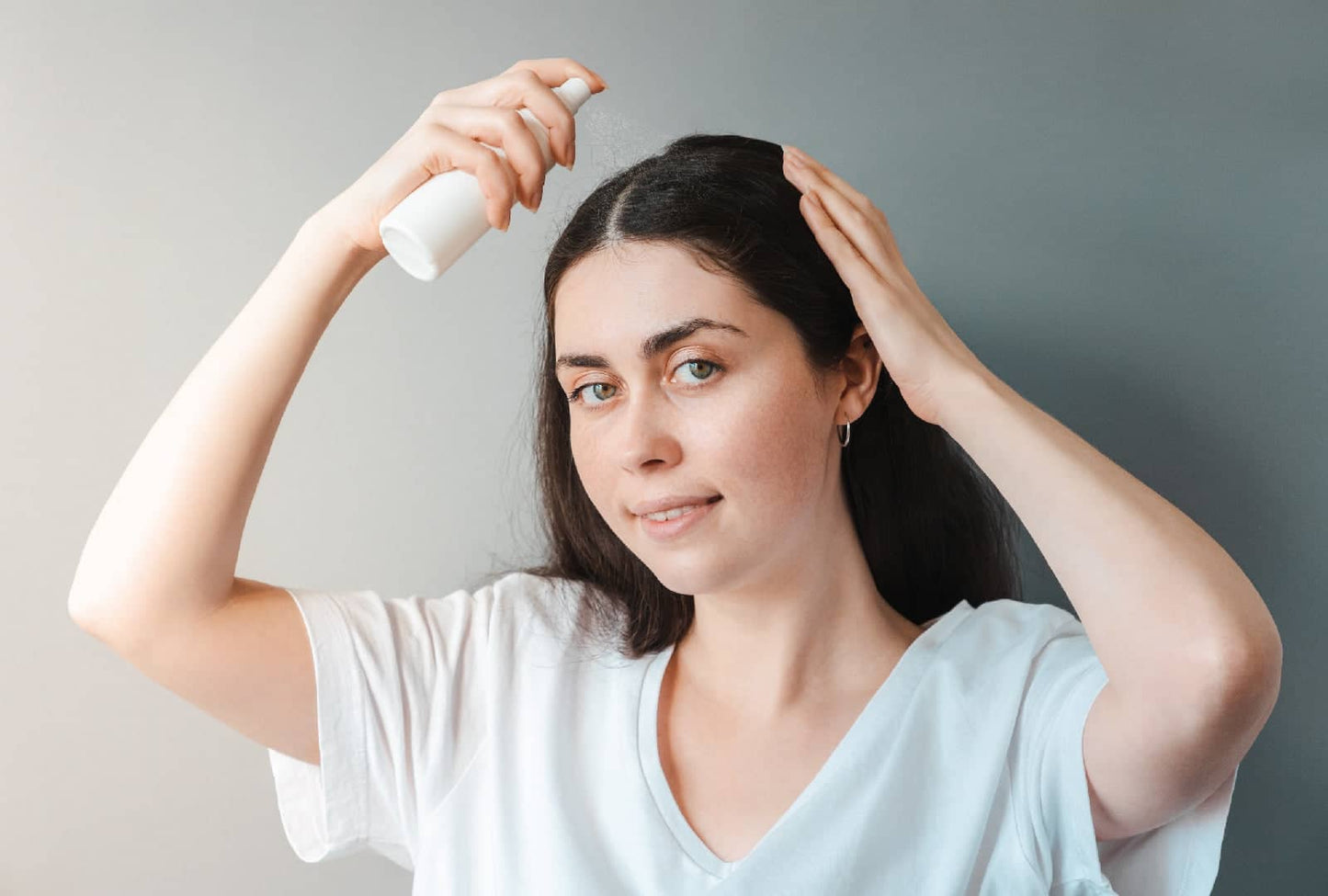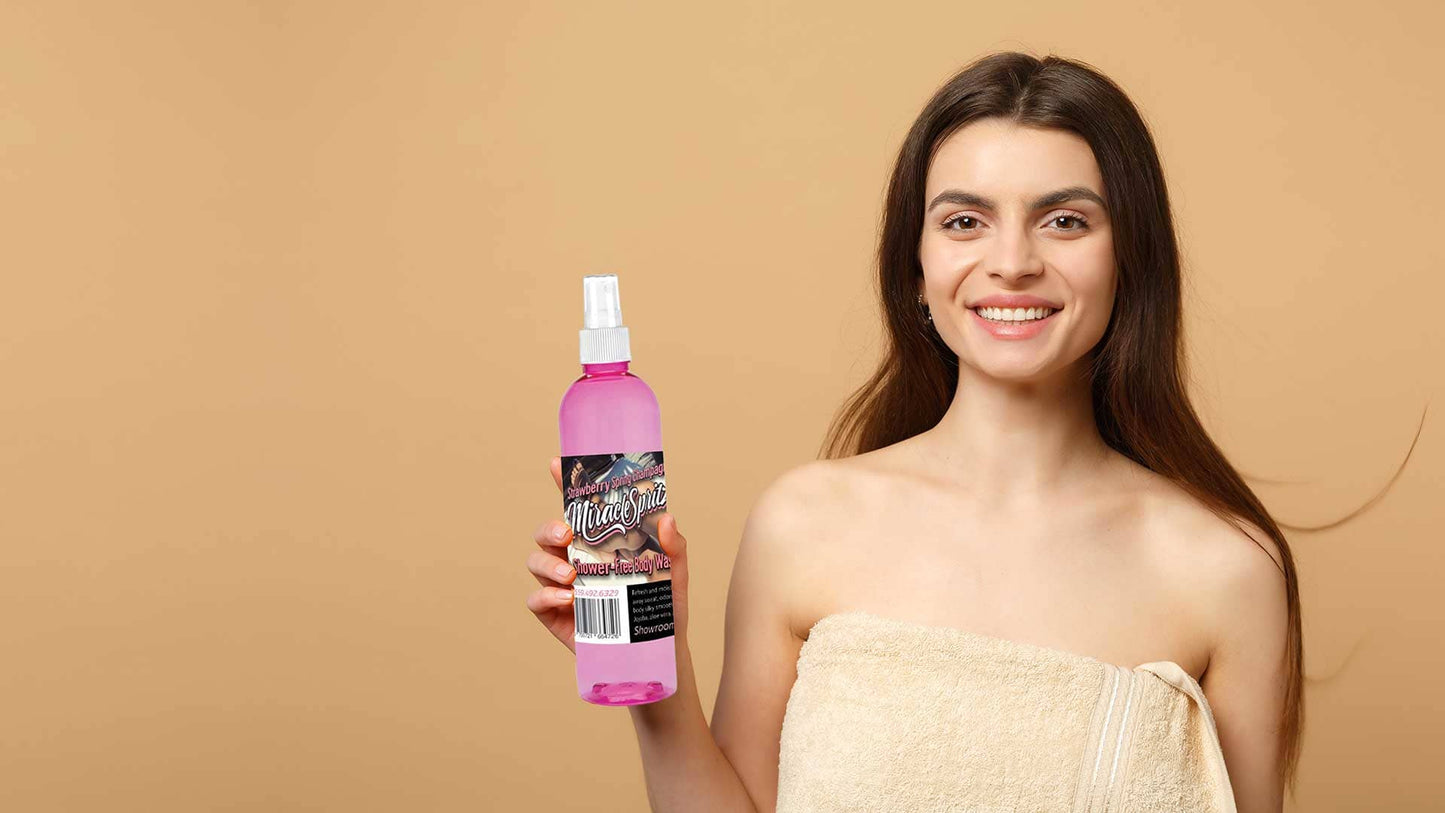 Collapsible content
Highlights

Nooily, sticky residue buildup.The body wash has Strawberry Spring fragrance mist. Safe to use everyday. Fast and easy to use.
Scent

Strawberry Spring Champagne
Details

BENEFITS  OF THE OILS

Joboba Oil
For Skin: When you put jojoba oil on your skin, your skin is soothed and moisturized. This sends a signal to your hair and sweat follicles that your skin doesn't need additional sebum for hydration. This keeps skin from looking oily and helps prevent acne caused by clogged pores.

For Hair: Soothes the scalp, repairs breakage, controls dandruff

Aloe Vera Oil
For Skin: Since both aloe vera and coconut oil are rich in vitamins and minerals, their mix rejuvenates your skin and hair cells. Applying this oil may exert skin-lightening and anti-aging effects. It can heal dark spots, wrinkles, stretch marks, and dry skin issues.

For Hair: Calms an itchy scalp, Deep cleans oily hair, Strengthens and repairs hair strands, May promote hair growth

Argan Oil
For Skin: It moisturize skin, Often Used to Treat and Prevent Stretch Marks Contains Essential Nutrients, Has Antioxidant and Anti-Inflammatory Properties, May Reduce Signs of Skin Aging, May Treat Some Skin Conditions, May Promote Wound Healing, and Sometimes Used to Treat Acne.

For Hair: Moisturizes, adds shine, protects hair, protects from breakage and increases elasticity.

Almond Oil
For Skin: Almond oil soaks in quickly and is a powerful moisturizer, so it can be used on the face or body. You can apply it straight, or mix it with essential oils to get its benefits. Beyond moisturizing your skin, almond oil is a great massage oil or skin treatment.It also has powerful antifungal properties.

For Hair: You can use almond oil as a scalp treatment. Its antibacterial and fungicidal properties make it effective at balancing the yeast that causes dandruff. It easily soaks into the skin, so almond oil works well at hydrating the scalp and cleansing the hair follicles.

Avocado Oil:
For Skin: Moisturizes and nourishes, Relieves inflammation from psoriasis and eczema, Prevents and treats acne, Accelerates wound healing, Treats sunburned skin, Reduces signs of aging, Improves nail health and Improves scalp health

For Hair: Soothes the scalp, repairs the hair shaft, and protects strands from UV and environmental pollutants.


Coconut Oil
For Skin: It hydrates, It helps to protect skin, It smooths skin, It minimizes the look of fine lines and wrinkles, It calms temporary redness, It provides antioxidants, It absorbs easily, It's a great base for exfoliants, It soothes irritated skin and It smells great

For Hair: It helps moisturize and seal hair. This can help prevent a dry, flaky scalp and dandruff, as well as split ends and hair breakage.
Ingredients

Joboba Oil, Aloe Vera Oil, Argan Oil, Almond Oil, Avocado Oil, Organic orange oil, Citrus oil,Organic lemon oil,Cherry, strawberry, Strawberry champagne toast, White citrus, Strawberry poundcake, Sodium Bicarbonate & Peroxide