Miracle Spritz
Regular price
Sale price
$10.99
Unit price
per
Sale
Sold out
Introducing the revolutionary Miracle Spritz Pet Grooming Spray - the ultimate solution to keep your beloved furry friend safe, fresh, and looking like they just stepped out of a luxurious spa. This remarkable spray is here to make pet grooming worry-free and hassle-free, giving your pet's coat a silky smoothness that is simply irresistible.

Why go through the hassle of giving your pet a bath when you can effortlessly maintain their cleanliness and freshness throughout the week? With Miracle Spritz Pet Grooming Spray, you can easily keep your pet clean and smelling fabulous all the time. Just a few spritzes and your pet will feel refreshed, without the need for a full bath.

Enriched with a plethora of new moisturizers and nutrients, this specially formulated spray nourishes and revitalizes your pet's hair, all while maintaining a perfect pH balance for their oils and skin. The result? A safe and healthy grooming experience that leaves your pet looking and feeling their absolute best.

Say goodbye to dull, lifeless coats and hello to a luxurious, soft, and shiny fur that will have your pet turning heads everywhere they go. Miracle Spritz Pet Grooming Spray infuses the hair with essential nutrients, making it more manageable and promoting a healthy, vibrant appearance.

We understand that your pet's safety and well-being are of utmost importance to you. That's why Miracle Spritz Pet Grooming Spray is meticulously crafted to ensure it is safe and healthy for your furry friend. Say goodbye to harsh chemicals and hello to a gentle yet effective grooming experience your pet will love.

Embrace the convenience and superior results of Miracle Spritz Pet Grooming Spray. Keep your pet fresh, clean, and looking fabulous with this simple yet powerful solution. Pamper your furry companion with the care and love they deserve while enjoying the ease of maintaining their hygiene. Trust in Miracle Spritz to give your pet that extra touch of luxury that will make them feel like the special member of the family they truly are.
Share
View full details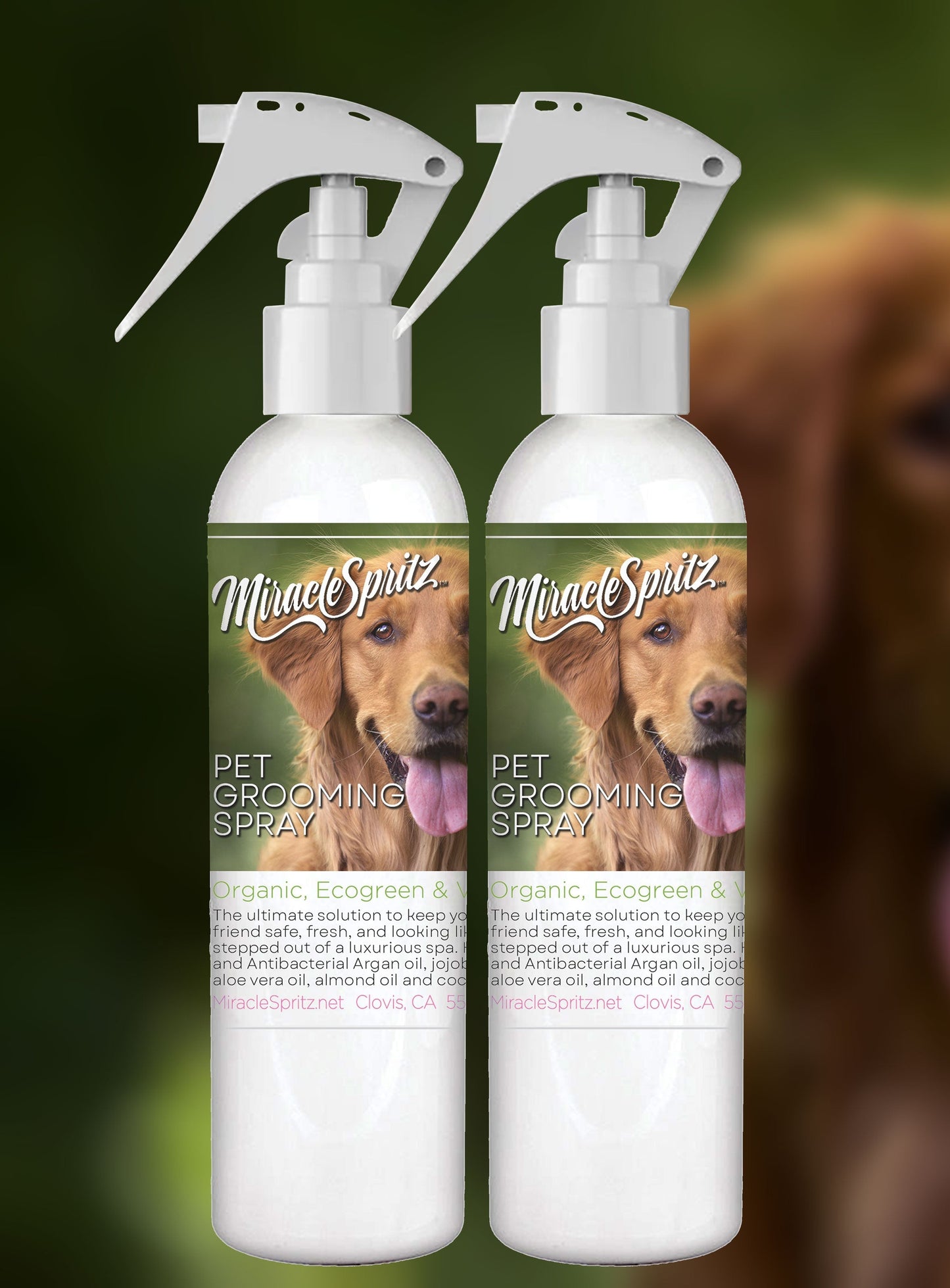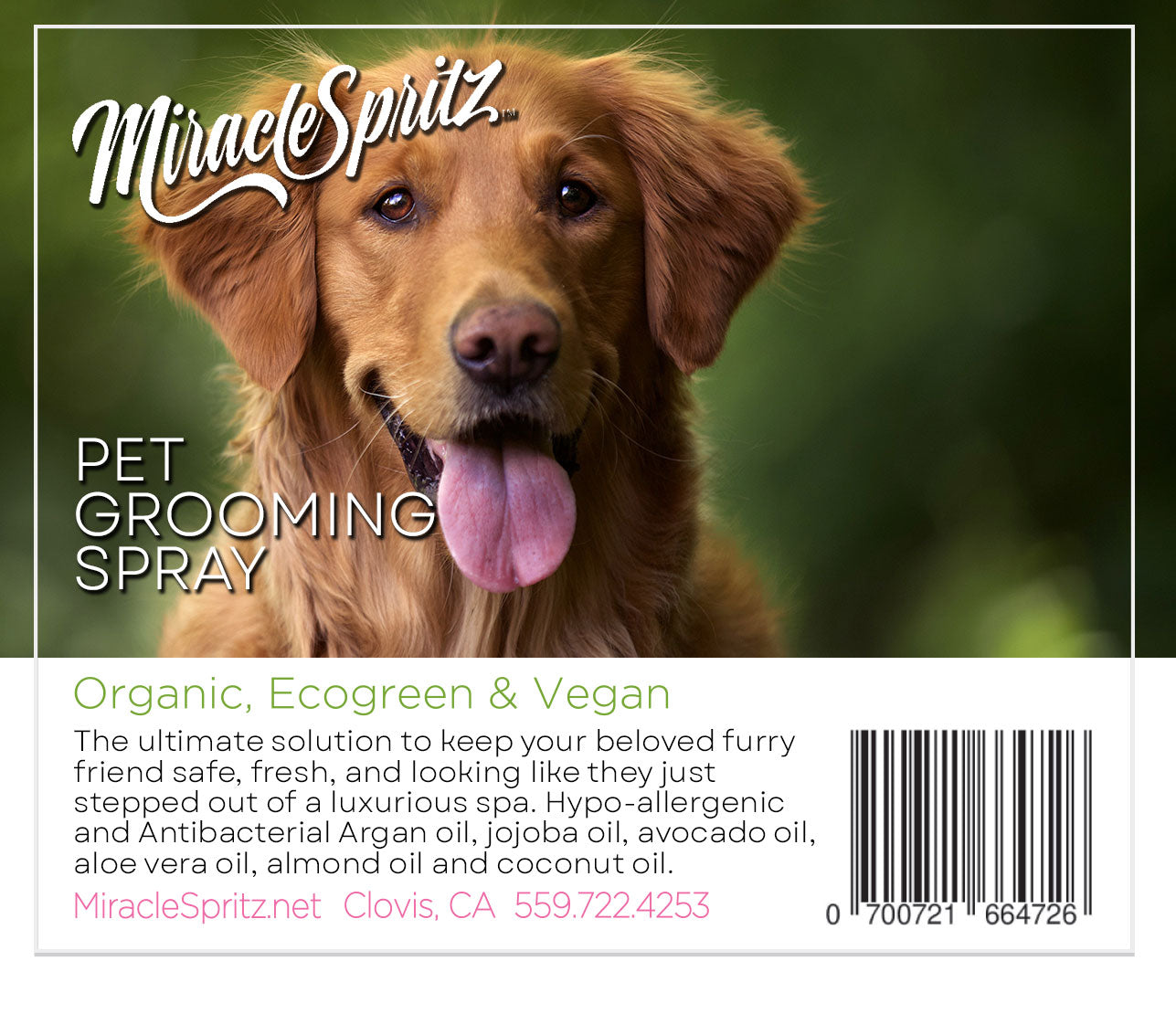 Collapsible content
Highlights

Nooily, sticky residue buildup.The body wash has Strawberry Spring fragrance mist. Safe to use everyday. Fast and easy to use.
Scent

Strawberry Spring Champagne
Details

BENEFITS  OF THE OILS

Joboba Oil
For Skin: When you put jojoba oil on your skin, your skin is soothed and moisturized. This sends a signal to your hair and sweat follicles that your skin doesn't need additional sebum for hydration. This keeps skin from looking oily and helps prevent acne caused by clogged pores.

For Hair: Soothes the scalp, repairs breakage, controls dandruff

Aloe Vera Oil
For Skin: Since both aloe vera and coconut oil are rich in vitamins and minerals, their mix rejuvenates your skin and hair cells. Applying this oil may exert skin-lightening and anti-aging effects. It can heal dark spots, wrinkles, stretch marks, and dry skin issues.

For Hair: Calms an itchy scalp, Deep cleans oily hair, Strengthens and repairs hair strands, May promote hair growth

Argan Oil
For Skin: It moisturize skin, Often Used to Treat and Prevent Stretch Marks Contains Essential Nutrients, Has Antioxidant and Anti-Inflammatory Properties, May Reduce Signs of Skin Aging, May Treat Some Skin Conditions, May Promote Wound Healing, and Sometimes Used to Treat Acne.

For Hair: Moisturizes, adds shine, protects hair, protects from breakage and increases elasticity.

Almond Oil
For Skin: Almond oil soaks in quickly and is a powerful moisturizer, so it can be used on the face or body. You can apply it straight, or mix it with essential oils to get its benefits. Beyond moisturizing your skin, almond oil is a great massage oil or skin treatment.It also has powerful antifungal properties.

For Hair: You can use almond oil as a scalp treatment. Its antibacterial and fungicidal properties make it effective at balancing the yeast that causes dandruff. It easily soaks into the skin, so almond oil works well at hydrating the scalp and cleansing the hair follicles.

Avocado Oil:
For Skin: Moisturizes and nourishes, Relieves inflammation from psoriasis and eczema, Prevents and treats acne, Accelerates wound healing, Treats sunburned skin, Reduces signs of aging, Improves nail health and Improves scalp health

For Hair: Soothes the scalp, repairs the hair shaft, and protects strands from UV and environmental pollutants.


Coconut Oil
For Skin: It hydrates, It helps to protect skin, It smooths skin, It minimizes the look of fine lines and wrinkles, It calms temporary redness, It provides antioxidants, It absorbs easily, It's a great base for exfoliants, It soothes irritated skin and It smells great

For Hair: It helps moisturize and seal hair. This can help prevent a dry, flaky scalp and dandruff, as well as split ends and hair breakage.
Ingredients

Joboba Oil, Aloe Vera Oil, Argan Oil, Almond Oil, Avocado Oil, Organic orange oil, Citrus oil,Organic lemon oil,Cherry, strawberry, Strawberry champagne toast, White citrus, Strawberry poundcake, Sodium Bicarbonate & Peroxide